There's been a lot of change in today's SEO, especially for local businesses. Today we'd like to share with you some helpful tips and insights on how to better optimize your business for local search.
Just this week, Google rolled out some new changes in search for how local businesses appear in results. This new change brings a lot to the table. When doing some simple exact searches for certain types of products, types of food, etc. you'll notice something new. At the top of search local business are now being displayed in a horizontal pattern showing you the business name, reviews and thumbnail. What's great about this new layout is the attention of the reviews. It's really going to be a game changer for the businesses that have higher reviews than others. Most people tend browse online in an educated manor and base their decisions on what people like more. Having higher reviews show dominance and people are more apt to clicking on those results first. We're certain that most people would agree.
The New Google+ Local Results For Business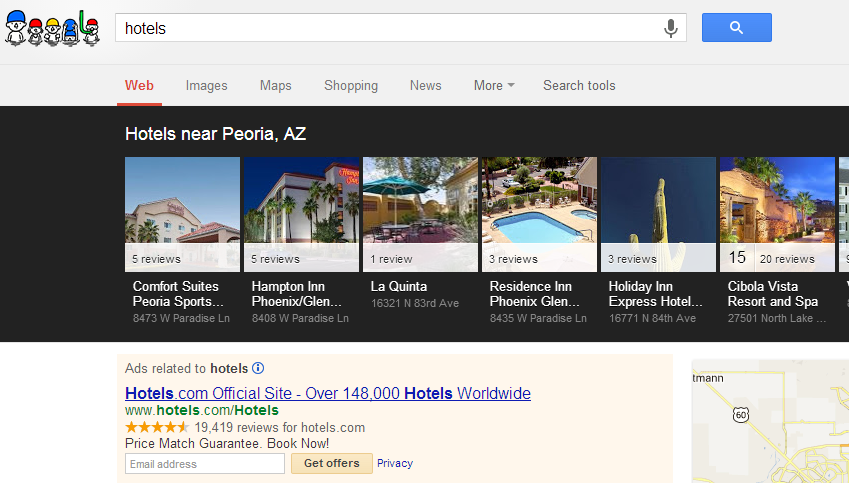 Now lets talk about getting your business there to eat up your competition if you haven't already taken action. The first step that you'll need to take is setting up your G+ local business page. Setting up your Google+ local business page is a piece of cake and you can reach out to me on Google+ if you have any questions or need help. I'll be glad to answer your questions there, you'll just need to follow me and mention this post. After you've completed setting up your business page you'll want to verify ownership. Verifying ownership of your page will enable you to have both posts and reviews combined on a single page vs having a local page and an additional G+ business page. To verify your page migration you'll need to request a pin that will be sent via postcard and it takes 3-5 days to arrive. By requesting a pin to verify your business, you're actually verifying your address with Google. The next thing you'll want to do is setup your Google+ authorship and publisher tags on your G+ profile and website. You can request more info on this if you need help, we can do it for you.
Once all of the above has been complete you can start focusing on building more citations and encouraging reviews. Co-citations and reviews is what it'll take to build up your rank in search. Each citation is counted as a vote as well as reviews. Google likes to reward business's and site owners for doing things naturally so please do not buy reviews. Buying reviews is bad and is against Googles guidelines. You do not want to risk being penalized for paying some guy $5 for reviews, it will cause more harm than good. When you start getting reviews and building up your citations you should start seeing an increase in rank and increase in traffic for local searches in your market. Whatever you do, do not let things go stale. Always keep up, engage with others and answer to poor reviews to help your reputation management.